"I tried a popular online indoor cycling app while I was stuck at home to see what all the buzz was about…the classes seemed to drag on. My output was suffering as a result too."
Back and Better Than Ever!
Cycle is BACK at Fitness Incentive, and I couldn't be more excited about that! I was happy to keep the cycling motivation going at home with the video classes that I have been filming since we closed in mid-March. But let's face it, working out at home alone can get old, fast. This is especially true when it comes to indoor cycling. I tried a popular online indoor cycling app while I was stuck at home to see what all the buzz was about. While it was convenient to just throw on a class and not think about the ride too much, the classes seemed to drag on. My output was suffering as a result too. I found that I was coaching myself by the end of the ride to push harder. I missed being in a group of people and feeding off of the energy in the room.
Outside the Box
When they announced that NYS gyms could reopen at the end of August, we were presented with a laundry list of regulations. Those regulations included a smaller capacity, distancing each person at least 6 feet apart, installing new HVAC filters, sanitizing the equipment between each class, and of course, the "mask mandate." What would that "room" that I was so excited to get back to actually look like when we reopened? With the cycle room capacity being limited, and with many people being wary of returning to indoor workouts, we needed another option.
That's when I had to start thinking, literally, outside of the box. Remove the four walls, and we had ourselves our other option. Earlier in the summer, I had already started to conceptualize what outdoor stationary cycling might look like. Fitness Incentive's carport offers a unique outdoor workout space. The overhang will keep you dry, and the recessed space locks in some warmth while still allowing that cool breeze to pass through when you most need it. Of course, extreme hot or cold temperatures may present an issue, but luckily our projected open date of August 31st meant that cooler, dryer weather was on the way. We brought in a storage pod to keep the bikes safe outside, Bluetooth speakers for the music, and we marked the floor of the carport to clearly and easily socially distance the riders. The classes went off without a hitch, and outdoor cycle was born! It is now one of the most popular classes at the gym. If you haven't experienced it yet, you need to get out there and try it. Just be quick to book, because those bikes fill up very fast!
Meanwhile. Back Inside the Box.
Indoor cycle has been just as successful as the outdoor cycle classes. As much as I love the new outdoor cycle classes, I missed the cycle room. The energy of being in that dark room with the music pumping around you is unparalleled. Even with the limited capacity, we can place 14 riders in a class with more than the recommended 6 feet of distance between each bike. Like the rest of the gym, the cycle room has been upgraded to the required MERV 13 HVAC filters. While wearing a mask during an activity as vigorous as indoor cycling may seem like an overwhelming obstacle, I promise you that it is safe, and you will get more and more used to it with each class. What's more, our team of rockstar cycle instructors has been educated on the most effective ways to exercise in a mask. So if you have any questions or concerns, feel free to ask!
Loving It!
The feedback that I have received from all of the members attending our indoor classes has been amazing. Again, I can't emphasize enough how much that sense of teamwork and camaraderie helps you push to the greatest extent possible. Just like the outdoor classes, those indoor classes fill up in no time – so book your bike as close to the 24 hours prior as possible!
The Third Way
Even with the extra measures that we've taken to keep our members safe – like installing UV lights to sanitize the entire cycle room, cleaning the bikes in between each class, distancing the bikes, installing MERV 13 filters, and installing extra hand sanitizing stations throughout the gym -we realize that not everyone is ready or able to return just yet. If you're not quite ready to join us back inside the gym or under the carport, we also offer a third option for anyone who has a stationary bike at home: video classes! Fitness Incentive has been offering virtual online classes since March, and over 60 cycling classes that were filmed during the lockdown are available for on-demand viewing. And we continue to offer at least four new cycle classes filmed live from the gym each week. Every class is archived so that you can go in at any time and view a class. If there is a particular class that you loved, you can take it over and over again. So if you do truly prefer to work out at home, feel free to join us live and ride with your favorite instructors!
It's All Included
Perhaps the single greatest thing about these three options is that they are all included in your monthly membership. That's right – that's three options for the price of one: indoor, outdoor, and virtual. It's really a remarkable deal. So what are you waiting for? Work out with us inside, outside, or at home today! You've got this!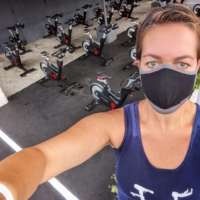 Theresa Christensen is a certified Group Cycling Instructor. She manages the Cycling program at Fitness Incentive.
More From Fit to Print Autumn 2020