---
"For years, many of the cycle instructors have discussed having a class that incorporates cycling with strength training off the bike. This was not possible because of space limitations in the cycle room."
"For the times, they are a-changin'…"
Bob Dylan famously penned those words almost 60 years ago, but I think that sentiment strikes a chord with each of us during these current times. The Cycle Program at Fitness Incentive has undergone quite a few changes since we reopened in September.
I think that the most noticeable change to the program was the introduction of Outdoor Cycle classes. This has quickly become the most popular class at the gym, with some classes filling up in just minutes. Even in the cold of winter, there is nothing quite like the energy of cycling under the carport. The ability to hold cycle classes outdoors has opened up new class opportunities as well. You may have noticed that there have been a variety of new cycle classes and workshops on the schedule over the last several months. Below are some of the newest cycle class offerings that have been popping up at Fitness Incentive:
1. "Cycle Bootcamp" (pictured above)
For years, many of the cycle instructors have discussed having a class that incorporates cycling with strength training off the bike. This was not possible because of space limitations in the cycle room. With our outdoor space, we can space the bikes out far enough so that members can set up a mat and weights next to their bike. This exciting pop-up class is a fast-paced experience in which you alternate periods of cardio on the bike with strength training on the mat. This is an absolutely KILLER workout, and we can't wait to bring it back this Spring.
2. "Live DJ Cycle"
This is another amazing pop-up class that could never have been held in the cycle room due to space limitations. Jourdan will lead you through a fun and sweaty ride while our live DJ (a certain man of her acquaintance) spins the heart-pumping beats. Our evening 'happy hour' DJ Cycle under the disco lights will bring you back to your clubbing days while getting in an insane workout.
3. "Power Zone"
Power Zone training is all about consistency. Our first-ever intensive cycle training course is an 8-week program in which you ride as part of a team. Using the seven power zones of cycling, a Spin Power certified instructor will coach you through 8 training sessions targeted to significantly improve your power output in just under 2 months. This is an immersive program! You will receive body composition reports at both the beginning and end of the program, complete two FTW (Functional Threshold Wattage) tests, and receive one-on-one coaching and several wellness tips for maximizing your results over the 8 weeks.
4. "Cycle & Flow"
Some people say you're either a cardio person or a yoga person. Well, what if you're both? Then this combination class is for you. Ride to the beat with Monica in this 60-minute pop-up class. This workshop combines a 30-minute high-energy ride followed by another 30 minutes of Power Yoga. Move to the music and keep the vibes high.
5. "Outdoor Cycle Complete"
Held on Saturday mornings at 8 am, this 60-minute class will truly leave you feeling "complete." Theresa starts the class with a warm-up, then leads you on a sweaty 40-45 minute ride, followed by a 10-minute recovery ride that slowly brings the heart rate back down. The class concludes with a 5 min stretch both on and off the bike. Get it all done in just one hour, and start your weekend feeling amazing!
6. "30 min Outdoor HIIT Cycle"
Janet brings her Tabata expertise to Wednesday mornings at 7:15 am under the carport. This express class is perfect for those looking to maximize their cycle workout in minimal time. This HIIT (high-intensity interval training) style class packs a major calorie burn, and the time flies by. You won't know what "hiit" you. (Get it? Is this thing on??)
Of course, we still have our indoor cycle classes led by our terrific, fun, and challenging instructors! Our new online booking system provides the peace of mind that you have a bike waiting for you when you arrive – no more racing to the gym to put your towel down on a bike. Sometimes change is a good thing.
So what are you waiting for? Try something new today! Because like Mr. Dylan also sang, "and accept it that soon you'll be drenched to the bone,"…in sweat that is. I'm here all night, people!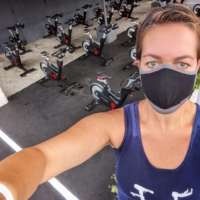 Theresa Christensen is a certified Group Cycling Instructor. She manages the Cycling program at Fitness Incentive.
More From Fit to Print Spring 2021