"The goal of the Power Zone course is to improve the results of your FTP test in just eight weeks by training with the 7 Power Zones in cycling."
Get Out Of Your Comfort Zone!
By now, I'm sure you've seen the big posters with my mug on it outside of Fitness Incentive's foyer. "Get out of your comfort zone" is written in big letters, followed by the two words that get me more excited than they probably should…Power Zone. If you've ever taken a cycling class at FI, you may have noticed that the monitors are counting watts. Maybe you've never paid much attention to that, or maybe you've completely obsessed over that number. I find that there are those two types of people in cycling and nothing in-between.
What are Watts?
Watts are a measurement of power, and power is what's generated when you mix speed plus resistance. For the average person, that measurement is a simple way to see if they are getting stronger. Watts go up, more power is generated, and voila, your performance has improved. We are very fortunate at Fitness Incentive to have bikes that can measure that power for you. Gone are the days of pedaling faster and cranking up the resistance, and hoping that you got the best workout that you could in 45 minutes.
Make It Rise!
What's not so simple to the average rider is how to make that number go up. That's where I come in. My new 8-week "Power Zone" class is Fitness Incentive's first-ever intensive cycling training program. Training with power has always appealed to me because I can immediately see the results of my ride and know how I performed on any given day. As a mom, a small business owner, and a fitness instructor, I need to really carve out the time to fit in my own workout. I want to know that I am getting the most efficient workout possible in the short period of time that I have to myself. As an instructor, I jumped at the opportunity to get my Power Certification and bring that expertise to our members.
The first step in training with power is to find your starting point. We do a test that professional cyclists use to find their functional threshold. In other words, the most power that they can sustain for one hour. It's basically an all-out effort. I'm talking a "zombie apocalypse, and you only have a bike" kind of effort. Since none of us are out here training for the Tour de France, we opt to do a 20-minute test instead of an hour (phew!). The test is called an FTP test, which stands for "Functional Threshold Power." That threshold is your 100% effort. The goal of the Power Zone course is to improve the results of your FTP test in just eight weeks by training with the 7 Power Zones in cycling.
Group One
The first training group began with an FTP test on September 28th and took their final FTP test on November 21st. They also did an InBody scan at the beginning of the course to measure weight, body fat, and muscle mass. They then scanned after the eight weeks were completed. In between, they attended eight private cycling classes specifically targeted to improve performance. With that, I provided individual coaching to make sure that everyone was on track to meet their goals without falling behind and without burning themselves out. I had a mix of people, ranging from some who hadn't cycled in years, a few who hadn't worked out over the previous six months (due to the lockdown), to seasoned cyclists who were already tracking their FTP and wanted to get results faster than training on their own. Though they all had different backgrounds and fitness levels, together, they became a team. This sense of camaraderie was remarkable to see after so many months of feeling isolated.
The Results…
The results at the end of the eight weeks were simply astounding. Every single person who completed the course improved their FTP. The biggest improvement was by 32 points, which is just incredible in that amount of time. Every participant who scanned saw improvement on their InBody as well. In nearly every case, we saw an average weight loss of 5 pounds, with an increase in muscle mass and a decrease in body fat. Most importantly, everyone came out of the course with a much better understanding of what watts mean and how to use them to get the most out of every workout. They all told me that they were able to push themselves more in their other classes. It was an incredible feeling of accomplishment for everyone involved.

More To Come!
We are a few weeks into our second 8-week course, and I cannot wait for these participants to feel that same sense of accomplishment. Some are brand new to cycling, and some have joined up again after taking the first course in the hope of seeing even more improvement. Expect to see the third round in early 2021. Will I see you there? There is no better time than now to get out of your comfort zone and try something new!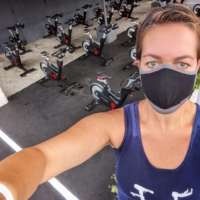 Theresa Christensen is a certified Group Cycling Instructor. She manages the Cycling program at Fitness Incentive.
More From Fit to Print Holidays 2020